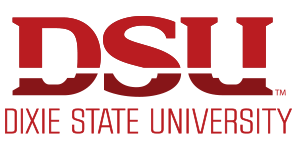 School Overview
Dixie State University is a four-year institution located in Southern Utah. Established over a century ago in 1911 and built on the site of the first pioneer encampment in St. George, Dixie State University offers an affordable educational opportunity in a fantastic climate, with wonderful outdoor activities, and a picturesque setting among the red rocks of St. George and Washington County. The school is surrounded by amazing tourism hotspots such as Zion National Park, Grand Canyon, and Las Vegas.
Dixie State University provides personalized and engaged learning experiences under the direction of skilled and devoted faculty and staff members. In addition to the valuable education and training you will receive in the classroom, our students enjoy an incredible array of activity options that truly enrich the college experience. The institution prides itself by providing students with an active life, active learning experience while pursuing a degree. Dixie State University offers a number of extracurricular activities, including several lecture and forum series, cultural arts, weekly on-campus events, and more than 70 clubs and organizations that foster a sense of belonging and school pride. The school has been named one of the safest colleges in the United States by BackgroundChecks.org.
With students and faculty from all over the world represented on campus, Dixie State University embrace and celebrate a culture of values and we take pride in fostering a spirit of service, citizenship, diversity, ethics and collaboration.